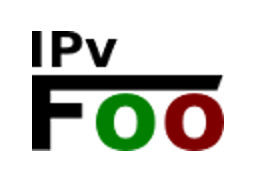 Firefox & Chrome Extension
The transition to IPv6 will be a long one. Even with Google measuring 25% utilization world-wideon the IPv6 internet, many services will be running dual-stack for some time to come.
IPv6-only
But there are those who have already moved to IPv6-only networks, most notably Facebook, and T-Mobile. They run a variety of transition mechanisms to help external IPv4-only services connect or traverse their IPv6-only networks.
But what if you just wanted to check your own servers to ensure they are ready for IPv6-only? Modern applications pull in javascript from many sources, and those external sources may not be available on IPv6, thus breaking your IPv6-only deployment.
There is an excellent extension to Chrome and Firefox which not only displays if the website is over IPv6, but also all the web page elements referred to on a given web page.
Looking for the Green 6
IPvFoo will put a green 6 or red 4 in the upper right corner of the browser indicating which network transport (IPv6 or IPv4 respectively) was used. In addition, a smaller 4 and/or 6 will be displayed to the right of the large 4/6 indicating referenced sites by the webpage.
Clicking on the 6 or 4, will display a list of referred sites and what addresses were used will pop up.
Looking up who owns that address
By right-clicking an address on the right side of the pop-up list, an option of Look up on bgp.he.net. Click that, and Hurricane electric will not only display the AS (autonomous system) that announced that IP block, but clicking on the whois tab will show you who is registered for that IP block.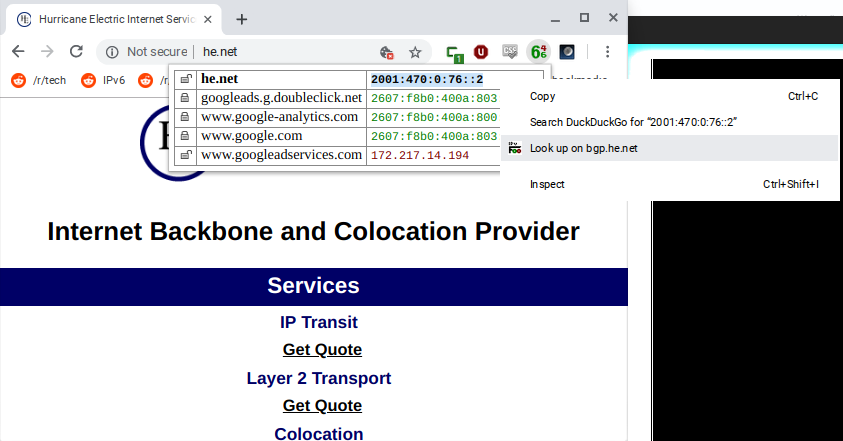 Creating a IPv6-only site
When creating an IPv6-only site, IPvFoo can quickly tell you if not only your server is running IPv6, but also the references that your web application might be using. In a IPv6-only network, the IPv4 references will not connect (unless you are using a transition mechanism like NAT64)
But why should you create an IPv6-only site. Frankly it is easier and faster, with only one protocol and firewall/ACLs to manage, and no transition mechanisms to traverse. If you believe the projections, the IPv6 Internet will be at 80% by 2025, that is only a little more than five years from now.
Be Ready for the Future Now
IPvFoo not only displays if you are IPv6-only ready, but is interesting to see how the rest of the world is building web sites as well.

Originally posted at www.makikiweb.com